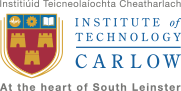 County Carlow Sports Partnership in conjunction with the Institute of Technology Carlow are pleased to offer a 14 week Community Sports Coaching initiative for those seeking employment.
The course aims to assist the successful candidates to gain employment, coaching, volunteering and further education opportunities in the sports sector for example as coaches, referees, physical activity leaders, etc.
Individuals will also participate in a personal development strand that will assist them in preparing for employment through: prepping CVs, job seeking, IT skills, etc.
The programme will focus on the following
strands:
1) Job Readiness Skills Development.
2) Personal Development
3) Sports Coaching Training by a National
Governing Body, eg. GAA, IRFU, FAI or
Get Ireland Walking.
4) Physical Activity Training.
5) Job Placement Experience.
Course Details:
– Start date late Jan/early Feb 2016
– Duration 14 weeks
– Course Location I.T. Carlow
– Three days per week
– 10am – 4pm
– Full attendance is required
– Closing date for application forms 15th Jan 2016
– Please note garda vetting will also apply
Please find attached poster and social media post for the programme, if you could share this on your clubs social media pages or had anyone in mind from your club that you think would be well suited for this course, please make them aware as closing dates for applications is January 15th 2016.
If you require any further information please do not hesitate to contact myself or Louise Barry;
Louise Barry
059 91 75617
Lisa Doyle
059 91 75617